Our 2020 calendar, "Well-behaved Women Can Make History!",
celebrates Women's Suffrage in Washington county.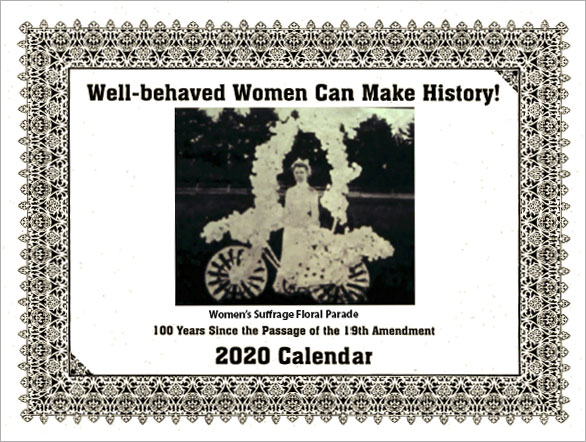 There were numerous Political Equality Clubs throughout our rural county. Many of the members were farm wives anxious to have their voices heard. These women organized and met regularly. Most of the clubs had a program at least once a month.
Many well-known speakers from the time period traveled to Washington County including Carrie Chapman Catt, Rev. Dr. Anna Howard Shaw and of course, Susan Brownell Anthony. Many people from our county do not know that Susan and her family moved to Battenville in the Town of Greenwich in 1826 before moving to Rochester. Her father had just gotten a job running the textile mill there. Many of Susan's feelings about women's rights were formed right here. It was here at the one-room schoolhouse in Battenville (Jackson side of the Batten Kill) that she was told girls do not need to know how to do long division. It was also here that she drew straws with one of her sisters to take the place of one of the girls in the mill when she was ill. Susan won and worked for two weeks. She learned from her fellow workers that they turned their pay over to their husbands, fathers and even their brothers. They were not allowed to keep the money for themselves. Susan's father paid her and she spent the money as she wished. She even purchased a set of blue teacups for her mother.
After they moved, Susan returned here frequently to visit family and friends and to speak to many of the Political Equality Clubs in the area as you will see in the calendar.
You will meet strong women from around our county who fought to get the right to vote, courtesy of historians and private individuals who shared photographs which were used in the calendar. There are many photos of individuals and events that happened right here in our own backyards! Some of the other women involved in the suffrage movement included Chloe Sisson (Easton), Lucy Allen (Easton), Emma Woodward Hays (Hebron), Betty Wakeman Mitchell (Fort Edward) and Anna Lewis MacArthur (Granville) to name a few.
Each month has this year's holidays and special days as well as specific events that happened here related to Women's Suffrage right in Washington County, New York State, and also on the national level.
Our Calendar is also available at the WCHS Bookshop (open Weds. 10-4 and Fri 10-5 at the Wing-Northup house at 167 Broadway in FE), Battenkill Books (Cambridge), Old Wilson Homestead (Hebron), and the Old Fort House (Ft. Edward). The calendar will make a great birthday, holiday or any time gift! Please call our headquarters at the Wing-Northup House (518) 747-9108 if you would like more information.