WCHS Programs & Events - 2017
2017 HISTORY FAIR
Saturday, September 30th at Hartford Central School from 10 am - 4 pm
Our theme will be "Forts & Battles" (of all kinds!). It will include the "battle" of women winning the right to vote in New York State. 2017 marks the one hundredth anniversary of that momentous event which took place in 1917. We will be sending out information to historians and historical societies. We hope you will consider having an exhibit featuring your town or village.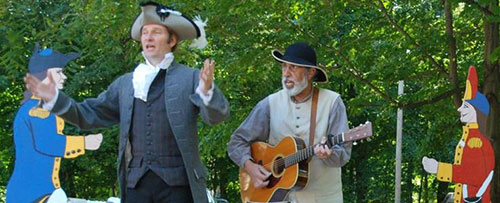 This year the "The Hudson River Ramblers" will present a concert beginning at 3 p.m. in the Hartford Central School cafeteria. The concert is entitled "Revolution on the River" and will highlight the struggle for independence in authentic story and song. They will tell the story of Yankee Doodle and the tragedy of Jane McCrea that inspired settlers to join the fight for freedom. They will also sing rousing battle songs of Saratoga and Ticonderoga. The program is family friendly and appealing to historians, teachers and anyone who loves learning about history in their own backyard! This event is free and open to the public. Donations to help defray expenses are gladly accepted.
There will be programs, activities, and 25 tables of exhibits all day long at Hartford Central School at 4704 State Route 149 (near the intersection of Rte 40 and Rte 149) The event begins at 10 a.m. and ends at 4 p.m. Stewarts will be on-hand all day with food available for purchase. There is no charge for the History Fair as well.
There will be talks at 11 a.m., 1:00 p.m. and 2:00 p.m. for all ages. For a complete listing of talks, please see our Flyer. The Washington County Historical Society is open Wednesday from 10 a.m. - 4 p.m. and Friday from 10 a.m. - 5 p.m. For more information on the concert or the History Fair, call either (518) 747-9108 or (518) 854-3102.
This concert is made possible with funds from the Decentralization Program, a re-grant program of the New York State Council on the Arts with the support of Governor Andrew Cuomo and the New York State Legislature and administered by Lower Adirondack Regional Arts Council.
For questions or more info, contact Debi Craig at dcraig1@hughes.net.
---
DEDICATION WALK OF THE GREENWICH HISTORICAL TOUR
Sunday, October 8th at 2 pm
Tour begins at the Village Hall on Academy Street in Greenwich (RAIN OR SHINE). For more information either call Debi Craig at 518-854-3102 or email dcraig1@hughes.net. If you have one, bring your cell phone, either android or iphone, OR if you don't, we will have a Bluetooth speaker so you can hear the re-enactors (ear buds are suggested if you are planning to use your own phone).
---
OUR 2017 BATTLES & BREWS BUS TOUR
Saturday, October 14, 9:00 am - 4:00 pm
A day long historic bus tour stopping at French and Indian War sites in Washington and Warren Counties. The bus departs from the Fort Miller Rest Area on Route 4. Members of WCHS act as step on guides and take you back in time—and to breweries! Sites to be visited include Rogers Island, The Old Military Road, Lake George Battlefield Park, Fort Ann and Coopers Cave. We will step off the bus at some sites. Cost is $60 per person ($50 for WCHS members) and includes the bus ride, interpretation and two drink tickets. Lunch is on your own, with a scheduled stop at a local brewery. Click the red sign-up button below and mail the application. Hope to see you there!
---
2017 WCHS ANNUAL MEETING
October 28th at Skenesborough Museum in Whitehall, NY, from 10:00 am to 2 pm
The cost will be $15.00, which includes a continental breakfast and a boxed lunch from Historic Grounds of Whitehall. For further information call Washington County Historical Society at (518) 747-9108 or email wchs@wchs-ny.org.
Download flyer and reservation form
---
Through Susan's Eyes: Susan Brownell Anthony's Childhood in Washington County
A lecture by Debi Craig
Saturday, November 18th at 11am
Slate Valley Museum
17 Water Street, Granville, NY
Co-hosted by the Washington County Historical Society.
Lecture attendance is free with $5 museum admission.